Fahrradrahmenrechner
Die richtige Schrittlänge ermitteln
Idealerweise verwenden Sie einen Zollstock und eine Wasserwaage. Haben Sie keine Wasserwaage zur Verfügung, können Sie auch problemlos ein Buch benutzen.
Die Messung sollten Sie ohne Schuhe und ohne Hose (je nach Schnitt kann dies, das Messergebnis beeinflussen) durchgefĂĽhrt werden.

Jetzt können Sie beginnen. Falls Sie eine Wasserwaage besitzen, müssen Sie diese nur noch möglichst waagerecht zwischen den Beinen nach oben ziehen. Mit einem Buch funktioniert es genauso gut, wenn Sie darauf achten dass das Buch waagerecht gehalten wird.

Messen Sie die Länge vom Boden bis zur Oberkante der Wasserwaage oder des Buches. Haben Sie eine Person Ihres Vertrauens in Ihrer Nähe, dann lassen Sie sich beim Ablesen helfen.
Der so ermittelte Wert gibt Ihre Schrittlänge in cm an.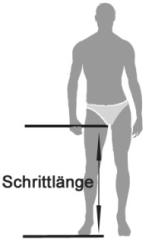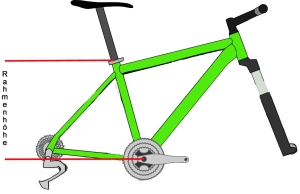 Rahmengröße: XL
Das SCOTT Spark 910 bietet einen superleichten Carbon-Hauptrahmen mit Alu-Schwinge. Das 910 ist mit einem FOX Nude Custom-Dämpfer und unserem TwinLoc-Federungssystem ausgestattet. Der perfekte Partner für Marathons, Etappenrennen und 24-Stunden-Spass!
Rahmen:
Spark 3 Carbon / IMP technology / HMF Mainframe
BB92 / Alloy SL 6011 swingarm
SW dropouts for Boost 12x148mm
2.6 tire compatible / TBC Trunnion box construction
Gabel:
FOX 34 SC Float Performance Elite Air
FIT4 3-Modes with low Speed adj. / 15x110mm QR axle
44mm offset / tapered steerer / Reb. Adj. / Lockout / 120mm travel
Dämpfer:
FOX NUDE EVOL Trunnion
SCOTT custom w. travel / geo adj.
3 modes: Lockout-Traction Control -Descend
DPS / Reb. Adj. / Travel 120-85-Lockout / 165X45mm
Lenkerfernbedienung:
SCOTT TwinLoc TSP Technology
Suspension-Seatpost Remote
below Bar / 3 modes / integ. Grip clamp
Steuersatz:
Syncros Pro Drop in / Tapered 1.5´´-1 1/8´´
bearing diameter size 42mm and 52mm
Schaltwerk:
SRAM X01 / Eagle 12 Speed
Schalthebel:
SRAM GX Eagle Trigger
Bremsen:
Shimano XT M8000 Disc
180mm F&R / SM-RT66 Rotor
Kurbelsatz:
SRAM X1 Carbon DUB Eagle Boost PF
QF 168 / 32T
Innenlager:
SRAM DUB PF integrated / shell 41x92mm
Lenker:
Syncros FL1.5 T-Bar / Alloy 7050 D.B.
T shape Flat / 9° / 740mm
Syncros Pro lock-on grips
Vorbau:
Syncros FL1.5 / Alloy 2014
integrated Spacer & Top Cup / 31.8mm / 6° / 1 1/8´´
Garmin mount
SattelstĂĽtze:
FOX Transfer Dropper Remote
31.6mm / S size 100mm / M, L & XL 125mm
Reifensatz:
Syncros Silverton 2.0 6 Bolt
F: 15x110mm, R: 12x148mm Boost
25mm Tubeless ready rim / 28H / XD / DT RWS
Kette:
SRAM CN GX Eagle
Kassette:
SRAM GX / XG1275 / 10-50 T
Bereifung:
Maxxis Rekon / 2.4´´ / 120TPI Kevlar Bead
TR Tubeless Ready / EXO 3C maxx Terra
SCOTT Spark 910 Bike XL
CHF
5599,00
Out of Stock
7613368404804
Das SCOTT Spark 910 bietet einen superleichten Carbon-Hauptrahmen mit Alu-Schwinge. Das 910 ist mit einem FOX Nude Custom-Dämpfer und unserem TwinLoc-Federungssystem ausgestattet. Der perfekte Partner für Marathons, Etappenrennen und 24-Stunden-Spass!Rahmen: Spark 3 Carbon / IMP technology / HMF MainframeBB92 / Alloy SL 6011 swingarmSW dropouts for Boost 12x148mm2.6 tire compatible / TBC Trunnion box constructionGabel: FOX 34 SC Float Performance Elite AirFIT4 3-Modes with low Speed adj. / 15x110mm QR axle44mm offset / tapered steerer / Reb. Adj. / Lockout / 120mm travelDämpfer: FOX NUDE EVOL TrunnionSCOTT custom w. travel / geo adj.3 modes: Lockout-Traction Control -DescendDPS / Reb. Adj. / Travel 120-85-Lockout / 165X45mmLenkerfernbedienung: SCOTT TwinLoc TSP TechnologySuspension-Seatpost Remotebelow Bar / 3 modes / integ. Grip clampSteuersatz: Syncros Pro Drop in / Tapered 1.5´´-1 1/8´´bearing diameter size 42mm and 52mmSchaltwerk: SRAM X01 / Eagle 12 SpeedSchalthebel: SRAM GX Eagle TriggerBremsen: Shimano XT M8000 Disc180mm F&R / SM-RT66 RotorKurbelsatz: SRAM X1 Carbon DUB Eagle Boost PFQF 168 / 32TInnenlager: SRAM DUB PF integrated / shell 41x92mmLenker: Syncros FL1.5 T-Bar / Alloy 7050 D.B.T shape Flat / 9° / 740mmSyncros Pro lock-on gripsVorbau: Syncros FL1.5 / Alloy 2014integrated Spacer & Top Cup / 31.8mm / 6° / 1 1/8´´Garmin mountSattelstütze: FOX Transfer Dropper Remote31.6mm / S size 100mm / M, L & XL 125mmReifensatz: Syncros Silverton 2.0 6 BoltF: 15x110mm, R: 12x148mm Boost25mm Tubeless ready rim / 28H / XD / DT RWSKette: SRAM CN GX EagleKassette: SRAM GX / XG1275 / 10-50 TBereifung: Maxxis Rekon / 2.4´´ / 120TPI Kevlar BeadTR Tubeless Ready / EXO 3C maxx Terra